Details
https://www.rmwilliams.com/signature-rm/B540C_13FGCW03.html
Product Variations
Availability: 

- 

Est Delivery: 

6-8 weeks
Product Actions
Description
These signature boots are the pride of our company, uniquely made from one piece of leather. Worn by world leaders past and present, these finely handcrafted boots are made by our most talented boot makers, who personally sign the sole of each boot.
Crowned with a fine brass plaque on a fine leather sole, the Signature Craftsman is made from premium veal calf leather, with a refined toe shape, lightweight leather insole, extra-fine stitching around the elastic and traditional v-stitching under the back boot tug. Made in our factory in Adelaide, the boots are available in dark tan, chestnut or black. 
These premium boots are of the highest quality and come individually bagged in soft R.M.Williams cloth with polish and inserts.
If these boots are not currently in stock, your order will be processed as a Special Order, and delivered within the stated time. The R.M.Williams Returns Policy allows Special Orders to be exchanged or returned. Determine your size and fit by referring to our Boot Size Guide or read our Terms & Conditions.
Size & Fit
This boot comes in G & H fit
They are crafted using a men's sized last – to find the correct woman's size, we recommend you drop 2 and a half sizes.
Let us help you find the perfect fit - View Boot Size Guide
Signature Craftsman Boot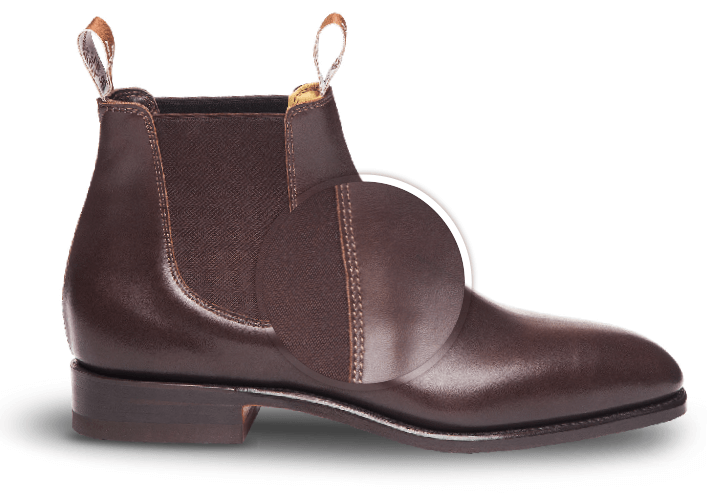 Made in Australia

You're in good hands. Our master craftsmen and women combined, have over 190 years experience in making boots that last – right here in our Adelaide workshop.

Meticulously handmade

We hand select the finest veal calf leather from France and ensure each pair is cut from an unmarked hide to ensure a perfect finish.

Refined toe shape

The Signature Craftsman looks as good with a suit as it does with our moleskins, due to refined toe shape which offers a much lower profile from the front.

Personally signed

Our Signature Craftsman boots are hand signed by the master craftsman who made them. Complete with a fine brass plaque on its leather sole.